In early 2019, I had a chance meeting with someone who had experienced some of the very same challenges in the world of Revenue Operations that I had been dealing with in real-time.
The things he was doing there fascinated me; as someone in Revenue, the challenges he was working on really resonated with the things I was seeing.
Fast forward three years, I now have the opportunity to work with brilliant minds who are solving these problems for all companies!
Before going into why I joined RevOps, I wanted to give a little background on my professional journey and what led me to become the VP of Revenue Operations at RevOps.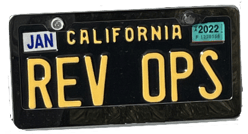 And yes, that is my actual license plate that I've had for several years!
---
Read more insights from Sharad in 50+ Lessons From Today's Revenue Leaders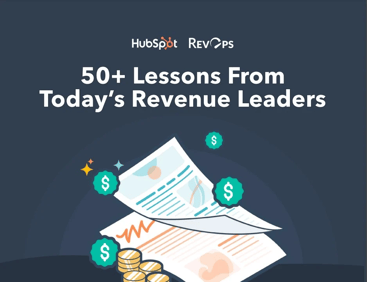 ---
My Journey
One of the biggest lessons I've learned throughout my time as a revenue leader is the absolute necessity of data integrity.
I came to this realization through a career in the world of SaaS before it was a label for an industry, starting all the way back in 2006.
In that first role with a company in the Medical Tech space, it was the first time I had seen a company have revenue and billing working together through contractual agreements and system dependencies that forced us to get the data right on all our communications via financial and reporting systems.
I moved to another early-stage company shortly after that where I took on my first "revenue" role. I realized there that order entry was so intrinsically tied to the data that was being booked in other systems, which eventually trickled down to financial systems for treatment.
Any error in one side of the equation would have massive repercussions on the other and our cash flow took a hit. We ended up spending massive amounts of time and money fixing invoices and getting systems to communicate efficiently.
As I continued to progress in my career, I began to see that crucial tools for revenue teams, such as CPQ, were often not implemented in a way to optimize the Quote-to-Cash process correctly.
Things were breaking, and a lot of money had to get spent to fix them.
These experiences made me realize that there was a gap in the market: a way to connect data all the way through the revenue engine, something that didn't require months of implementation and hundreds of thousands of dollars in consultant costs.
I recently spent over three years at Contentful, where I was the first revenue hire brought in to build out the entire quote-to-cash function.
In my time there, the company grew from 200 enterprise clients to over 1,000, we grew the order to cash team from 2 to over 10, to align with our ARR growth.
In addition, I worked very closely with other teams to select new systems for supporting growth and the COVID-19 relief team that provided financial assistance to customers impacted by the pandemic.
Why I Joined RevOps
The insights I've gained throughout my career led me to realize that there was a gap in the market for software stacks that addressed real-time challenges in this space.
RevOps is building software that uniquely caters to this market, an opportunity that I find incredibly exciting.
Since I've spent so much of my career on the finance side of RevOps, this is a great opportunity to have a full-cycle perspective.
I'm excited to help build pre-quote procedures and work with product, sales, and marketing teams to deliver a solution that solves an immediate need that scales with our customers.
But, for me, it was really about the people.
After meeting with some of the leadership team, I came away extremely impressed with the passion and collaborative environment that is happening at RevOps.
I wanted to be a part of that excitement and help do my part to take RevOps to the next stage of growth!
About Me
Outside of my passion for all things revenue, I get to play other roles as well.
First and foremost I am a husband and a father of three kids (and one dog!). I love to snowboard, run, and of course, ride my Peloton. I'm also a big sports guy - basketball, football, and baseball in particular.
But, most of all, spending time with my family is what brings me the most joy and satisfaction.
Sign up for The RevOps Daily!
X